Quest: Of All else why not learn this fierce style. Good thing he thinks your pretty good. Oh you ask what his name is well they call him Master Roxoz. He teaches a very well style and only certain fighters have ever got trained by him. It is a wonder what he really can and can't do I guess we will all just see what he can do by following his commands. He needs you to train. What a better way then to bring you out into the desert.
Rewards: 120 PL
Requirements: Must complete "The Dragon Hermit"
Cannot be done if you have done the Turtle Hermit or Crane Hermit
Admin




Posts

: 319


Join date

: 2009-12-23

Ki Sensing
Charcter Name: Tairu Szoola
Location: Planet Earth
Power Level: 5094


"Master Roxoz why are we flying to the dessert" said Tairu wondering about all of this. Master Roxoz turned to him for a moment and paused. "You just killed a Sayian, I have a feeling he will come back stronger looking to fight you" said Master Roxoz not knowing Goku was getting trained by King Kai but had a feeling Goku would come back stronger. "I really dont know what got into me back there, I just wanna be King and he got into my way" said Tairu knowing he had a few regrets of it all.
They slowly arrived to the Dessert and all landed slowly in the sand. "Even if whats done is done, you must train and be ready for anything" said Master Roxoz. Tairu looked around it was really barren and just sand everywhere. Master Roxoz started forming a sand type creature from the ground.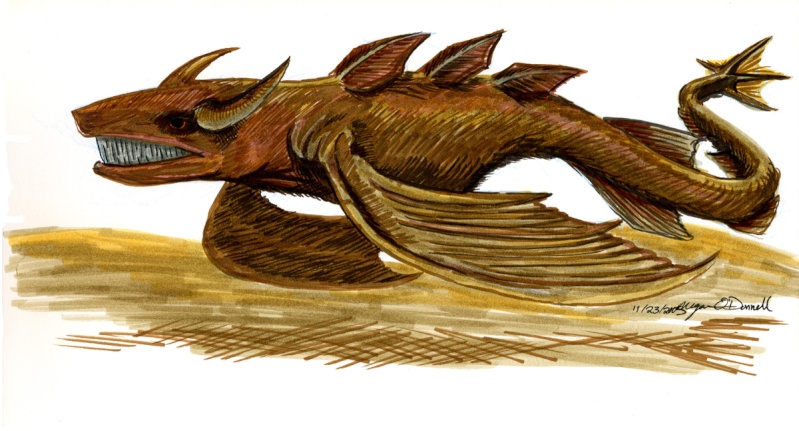 "What is that" said Tairu looking amazed and at the same time scared. "It is known as the Dragon of the Sand, really powerful" said Master Roxoz. Tairu started backing up but very slowly. "Haha dont be scared, Montriez attack" said Master Roxoz laughing. Tairu started running as the Sand Dragon by the name Montriez dove into the sand. Tairu had no clue where it could of went off to. "Here Dragon, Dragon, Dragon" said Tairu looking around not knowing if he should be looking for it or not. Then Montriez cam up out the sand about to snatch Tairu into his mouth but Tairu jumped up before he almost got eaten. "Crap that was close I almost got eaten by that thing" he said then started shooting Kai Blast at it. Master Roxoz started to laugh.
"Why are you laughing" said Tairu thinking he killed Montriez. "You cant kill it using puny Kai Blasts" said Master Roxoz laughing. "What The" said Tairu not knowing that Montriez had now split in two and came both ways trying to swallow him. Then the one Montriez had done it he swallowed Tairu. "Well now here is the real test" said Master Roxoz watching.
Tairu was inside the monster now. Seemed like his stomach but was not like any stomach Tairu had studied before. It started to fill up with sand, it must of been the way he digest stuff. "I give, Master Roxoz I give up" said Tairu thinking he might die. Master Roxoz could not hear him though. "Damnit" said Tairu scared for his life started blasting the creature from the inside. It was hopeless he couldnt do it or could he.
It finally came to Tairu what he must do. Tairu started to power his arm up with Kai. Tairu had alot more training with kai from a previous fight. "TEZO BEAM" shouted Tairu blasting a huge beam straight toward where Montriez skull was killing the Sand Dragon. Tairu stepped out with a stick sand substance all over him. "Good Job" said Master Roxoz. "Good Job? I COULD OF BEEN KILLED" said Tairu not knowing if he should keep up the training. "But you weren't" said Master Roxoz having faith. ".......Yea I guess your right" said Tairu feeling a little stronger.
(Done)
Admin




Posts

: 319


Join date

: 2009-12-23

Ki Sensing
Charcter Name: Tairu Szoola
Location: Planet Earth
Power Level: 5094


Tairu
(I hope no one minds me grading myself. Trust me I wont cheat)

+ 250 PL, 200 Strength, 150 Defense , 150 Speed , 350 Wisdom , 200 Kai
Admin




Posts

: 319


Join date

: 2009-12-23

Ki Sensing
Charcter Name: Tairu Szoola
Location: Planet Earth
Power Level: 5094




Similar topics
---
Permissions in this forum:
You
cannot
reply to topics in this forum